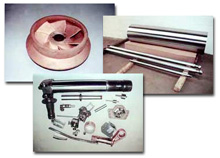 Diamond Chrome Plating, Inc. is a recognized special process leader for Chemical Processing (Plating) of various Aircraft metals.  We were established in 1954 and for over 60 years, we have been providing quality service  to the Aerospace, Aircraft, and other Commercial Industries.  
Diamond Chrome Plating, Inc. is located in Howell, Michigan, in a 35,000 sq. ft. facility which includes offices, laboratory, production, tool room, inspection, shipping, waste treatment and storage areas. Our facility employs a highly trained workforce of 60 - 70 team members spread over three shifts.
Diamond Chrome Plating Inc. is Nadcap Certified for Chemical Processing (AC7108) and Aerospace Quality System (AC7004).